Luther's Works
Publications by Luther in 1520 ~
Response to Luther by Silvester de Prierio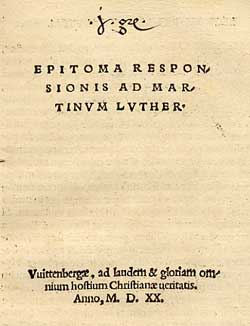 Gruber 130.
Gruber 130 Epitoma Responsionis Ad Martinum Luther. Vuittenbergae, ad laudem & gloriam omnium hostium Chrisianae veritatis. Anno MDXX. Wittenberg: Melchior Lotter the Younger, 1520. (Epitome of the Reply to Martin Luther, 1520). Benzing 667; WA 6.326. Click to enlarge thumbnail.
The response is by Silvester de Prierio, the Dominican "house theologian" of Pope Leo. In Part Three he gave a catalog of Luther's errors. Luther republished the Epitome with his own scathing marginal comments: "Farewell, unhappy Rome!"T
---
The Gruber Collection was assembled by L. Franklin Gruber, President of Chicago Lutheran Theological Seminary, Maywood, Illinois.
Annotation prepared by Ralph W Klein