Pre Reformation Bibles - Gutenberg Bible
The Gutenberg Bible is a printed version of the Latin Vulgate published by Johannes Gutenberg in Mainz, Germany, in the fifteenth century. Although it is not the first book to be printed with movable type, it is Gutenberg's major work and the start of the Gutenberg revolution and the age of the printed book. About 180 copies of this Bible were produced, 45 on vellum and 135 on paper. These Bibles were printed and then rubricated and illuminated by hand. They took one year to produce. In that time only one Bible could be produced in a scriptorium.
In the 1920s a New York book dealer bought a damaged paper copy, dismantled the book and sold sections and individual leaves to book collectors and libraries. The leaves were sold in a portfolio case with an essay written by A. Edward Newton. These leaves now sell for $20,000 to $100,000, depending upon their condition and the desirability of the page. In 1987 a Japanese buyer purchased the Old Testament portion of this Bible for $5.4 million.
---
Gruber 168 Leaf from 42 line Gutenberg Bible. Portions of Jeremiah 23-25
Gruber 169 A Noble Fragment, being a Leaf of the Gutenberg Bible, 1450-1455, with a bibliographical essay by A. Edward Newton. New York: Gabriel Wells, 1921. contains parts of Psalms 31-35.
---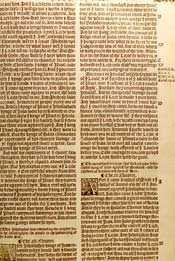 2 Chronicles 19-20.
This page was printed for a banquet held in 1955 at the Stevens Hotel (now Hilton Chicago) in Chicago honoring the 500th anniversary of Gutenberg's Bible.
---
The Gruber Collection was assembled by L. Franklin Gruber, President of Chicago Lutheran Theological Seminary, Maywood, Illinois.
Annotation prepared by Ralph W Klein