Other Reformation Era Documents
Letters
Gruber unnumbered item Letter of Philip of Hesse. May 5, 1554.
Gruber unnumbered item Letter of George Spalatin. Leather folder
---
1529
Gruber 189 Letter of Ulrices Zwingli. 1529. 7 lines
---
1530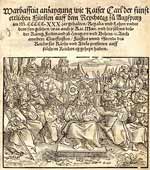 Gruber 68 Charles V, Emperor of Germany. Warhafftig anzaygung wie Kaiser Carl der fünf ettlichen Fürsten auff dem Reychstag zu Augspurg im MCCCCCXXX gehalten. Regalia und Leben... Augsburg: Philipp Ulhart, 1530. (Click to enlarge thumbnail.)
---
1531
Gruber 189 Letter by Guillaume Farel to Consuls and Senate of Berne. Latin. December 15, 1531.
---
1543
Gruber 158 Veit Dietrich. Agend Büchlein für die Pfarherren auff dem Land ( A Little Agenda Book for the Pastors on the Land). Nürmberg: Johan vom Berg und Ulrich Neuber...Anno 1543.
---
1553
Veit Dietrich Summaria über die gantze Bible (Summary about the Entire Bible).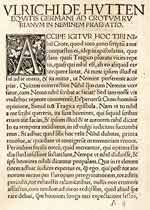 Gruber 66 Ulrich von Hutten. Equitis Germani ad Crotum Rubianum in Neminem praefatio.
---
1546
Bugenhagen's Sermon at Luther's Funeral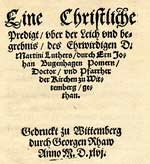 Gruber 73 Johann Bugenhagen. Eine Christliche Predigt uber der Leich und begrebnis des Ehrwirdigen D. Martini Luthers. Wittemberg: Georgen Rhaw, Anno MDXLVI. (Click to enlarge thumbnail.)
A Christian Sermon over the Body and at the Funeral of the Venerable Dr. Martin Luther, preached by Mr. Johann Bugenhagen Pomeranus, doctor and pastor of the churches in Wittenberg.
A translation of this sermon by Professor Kurt Hendel is on the Emory University Library website.
---
Justus Jonas: On Luther's Death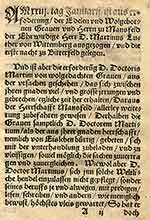 Gruber 22 Justus Jonas. Vom Christlichen Abschied aus diesem tödlichen leben... (On the Christian Departure from this Mortal Life) Wittemberg: Georgen Rhaw. Anno MDLVI. Title page missing.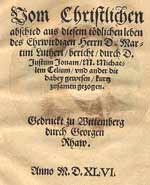 Gruber 35 Justus Jonas, et al. Vom Christlichen Abschied aus diesem tödlichen leben des Ehrwirdigen Herrn D. Martini Lutheri... Wittenberg: Georg Rhau, 1546.
---
Johann Stigel: On Luther's Death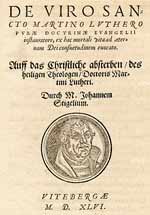 Gruber 78 Johann Stigel. De Viro Sancto Martino Luthero Purae Doctrinae Evangelii instauratore...Auff das Christliche absterben des heiligen Theololgen Doctoris Martini Lutheri. Durch M. Johannem Stigelium. Vitebergae, MDXLVI.
---
1556
Gruber 4 Biblia, interprete Sebastiano Castalione... Basil: Ioannem Oporinum, 1556
---
1576
Martin Chemnitz, Examen of the Council of Trent 1576
---
1581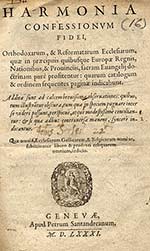 Gruber 16a. Harmonia Confessionum Fidei... (Harmony of the Confessions of the Faith) Geneva: Petrum Santandreanum, MDLXXXI (1581). Cf. 17 below under 1586.
---
1582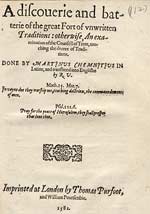 Gruber 112 Martin Chemnitz. A discoverie and batterie of the great Fort of unwritten Traditions: otherwise, an Examination of the Counsell of Trent. London: Thomas Purfoot & William Pounsenbie, 1582.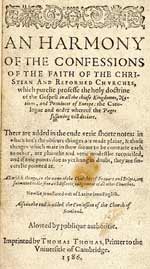 Gruber 17 Salnar, ____.An Harmony of The Confessions Of The Faith Of The Christian And Reformed Churches, which purelie professe the holy doctrine of the Gospell... Cambridge: University Press, 1586. Cf. 16 above under 1581.
---
1714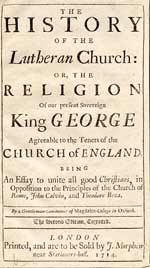 Gruber 102 The History of the Lutheran Church: or, the Religion of our present Sovereign King George...By a gentleman commner of Magdalen-College in Oxford. The Second Edition Corrected. London, 1714.
---
1862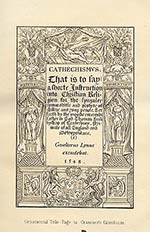 Gruber 107 A Biographical and Literary Account of the volume of Religious Instruction for Children usually denominated Cranmer's Catechism...Printed as a Memorial Book for the friends of William Tite and Richard Thomson of the London Institution. London, 1862.
Not adequately identified:
Gruber 189 Fragment of a manuscript by Nicolaus Amsdorrf.
Gruber unnumbered item Manuscript fragment of Hieronymus Sikiroff 6 lines German
---
The Gruber Collection was assembled by L. Franklin Gruber, President of Chicago Lutheran Theological Seminary, Maywood, Illinois.
Annotation prepared by Ralph W Klein