Because of the popularity of the Geneva Bible and because of the outspoken Calvinism of the Geneva Bible's annotations, a new English Bible was desired. This Bible, a revision of the Great Bible, was initiated by Archbishop Matthew Parker in 1561. The Bible was completed in seven years and sent to Queen Elizabeth I in 1568. The instructions were to follow the Great Bible and depart from it only where it did not accurately represent the original. The translators were to add no controversial annotations to the text. Passages containing genealogies or "other such places not edifying" were to be marked so that they could be omitted in public reading. A note appears at Psalm 45:9: Ophir is thought to be the Ilande in the west coast, of late found by Christopher Columbo: from whence at this day is brought most fine golde.
The Convocation of Canterbury in 1571 ordered that it should be in the house of every archbishop and bishop, in every cathedral, and, in as far as possible, in every church. It superseded the Great Bible as the authorized version of the Church of England, but was never formally recognized by the Queen. In the 1572 edition the Psalter of the Great Bible was printed in parallel columns with the Psalter of the Bishops' Bible, and in some later editions only the Psalter of the Great Bible was printed in the Bishops' Bible.
Gruber 64 The holie Bible conteyning the olde Testament and the newe. London: R. Jugge, 1568. Leaves lacking at the end (ends with Revelation 21:26). Disbound. Lacking title page and preliminary leaves. Herbert 125.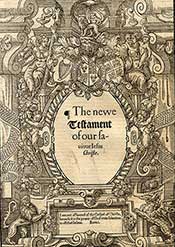 Title Page of the New Testament, Gruber 64.
---
The Gruber Collection was assembled by L. Franklin Gruber, President of Chicago Lutheran Theological Seminary, Maywood, Illinois.
Annotation prepared by Ralph W Klein