Luther's Works
Publications by Luther 1522
Treatises against King Henry VIII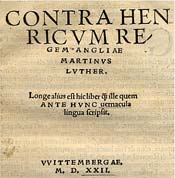 Gruber 136
Gruber 136 Contra Henricum Regem Angliae Martinus Luther...MDXXII. Basel: Adam Petri, 1522. Aland 280; Benzing 1226; WA 10,2.175-222. July 15.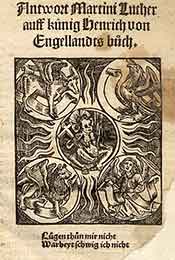 Gruber 157
Gruber 157 Antwort Martini Luther auff könig Henrich von Engellandts büch. Strasburg: Johann Knobloch, 1522. (Luther, Answer to King Henry's Book, 1521) Benzing 1230; WA 10,2.223-262.
Luther showed a shocking impudence toward a crowned head: "That king of lies, King Hank, by God's ungrace King of England."


Sermon on St. Michael's Day
Martin Luther. Sermon on St. Michael's Day (Maywood) 1522.
---
The Gruber Collection was assembled by L. Franklin Gruber, President of Chicago Lutheran Theological Seminary, Maywood, Illinois.
Annotation prepared by Ralph W Klein