Luther's Works
Publications by Luther 1529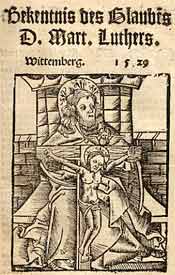 Gruber 2601
Gruber 260 (1) Bekenntnis des Glaubes D. Mart. Luthers. Erfurt: Mathes Maler, 1529. Benzing 2510; WA 26.499-509. Luther's Works 37:360-372. Vom Abendmahl Christi Bekenntnis Part III. Also bound in this volume are Schwabach Articles, Smalcald Articles, and several other items.
The Large Catechism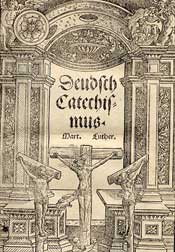 Gruber 21
Gruber 21 Deudsch Catechismus. Mart. Luther. Wittemberg: Georgen Rhaw, MDXXIX. (Large Catechism) Aland 364;Benzing 2548; WA 30,1.123-238. Der Grosse Katechismus.
Appalled at the desolation which the Visitors found in the Saxon parishes, Luther composed a small and a large catechism.
"Luther said that he would be glad to have all his works perish except the reply to Erasmus and the catechism." Bainton, Here I Stand, 263.
Another copy in the collection is without a Gruber number
---
The Gruber Collection was assembled by L. Franklin Gruber, President of Chicago Lutheran Theological Seminary, Maywood, Illinois.
Annotation prepared by Ralph W Klein